Location (Mito area sights and attractions)
---
Tokiwa University is located in the western part of Mito (population 270,000) , which is approximately 120 km northeast of Tokyo. Mito is the capital of Ibaraki Prefecture and serves as a major center for its political, economic, cultural and transportation services. In the Edo Period, Mito was home to one of the three relatives of the Tokugawa Shogunate. As such, a number of the Tokugawa family's famous historical and cultural assets and relics are still preserved. Notable among these sightseeing attractions are Kairakuen Park and Kodokan Hall, which was formerly an educational and training center for samurai soldiers of the Mito feudal lords.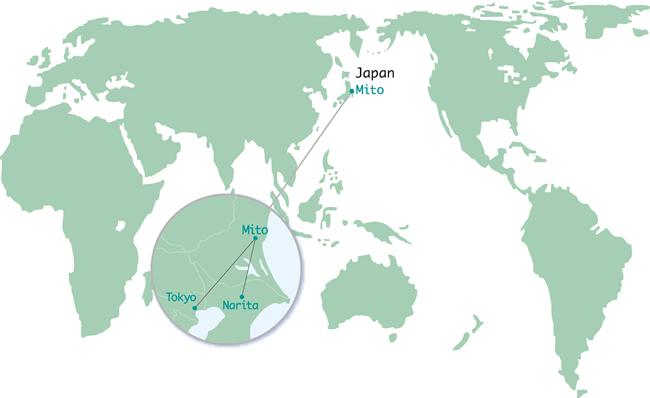 Kairakuen is one of the three most renowned gardens in Japan, the other two being Kenrokuen in Kanazawa and Korakuen in Okayama. It was laid out in 1842 by Nariaki Tokugawa, the ninth Lord of Mito, to his personal specifications, as a park for the people to enjoy. There are 3,000 Japanese apricot trees with some 100 varieties. Kobuntei, a pavilion in the park, was constructed as a retreat for the Lord. Among its many well-known rooms are the famous Chrysanthemum Room, the Bamboo Room and the Japanese Apricot Room.
The Mito Art Center is a center for fine arts established by the Mito Art Foundation in commemoration of the 100th anniversary of the city of Mito. The Mito Art Center is composed of the Contemporary Art Galley, Concert Hall and ACM Theater. The goal of this center is to provide the means for an active exchange of art and culture, not only for the citizens of Mito and the surrounding area, but also for all visitors to the city. Thus, the Mito Art Center places special emphasis on quality. All four facilities, that is, the Contemporary Art Gallery, Concert Hall, ACM Theater and Entrance Hall, offer art of different genres, which include exhibitions and performances.
Kodokan was an educational institution of the Mito clan, established by Nariaki Tokugawa in 1841. The aim of the institution was to train young samurai soldiers under the basic concept of the "Unity of Shinto and Confucianism, combined with excellence in literary and military arts." The purposes of the Kodokan were broadly similar to a modern university in Japan, and it offered courses in Japanese fencing, horsemanship, pharmacology and astronomy.